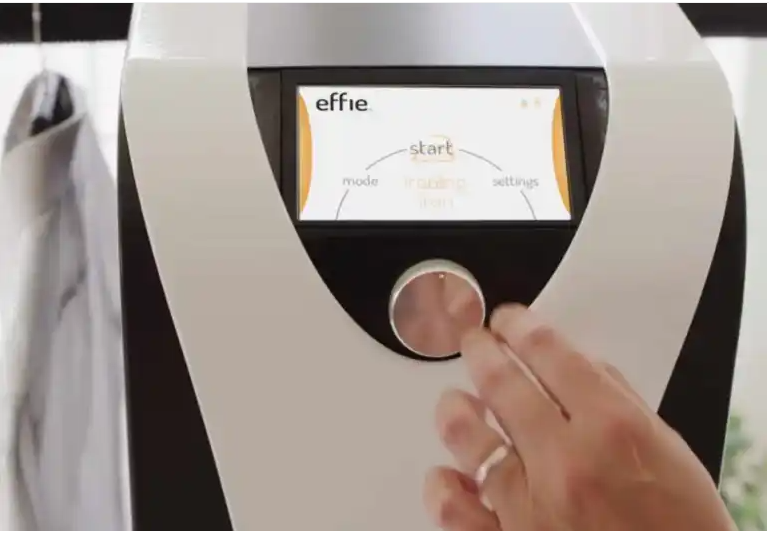 Ironing is hard for me and takes ages to do well, an automatic Ironing machine is an electronic device that erases wrinkles effectively and makes your clothes look flaky and suitable to go for the day
Here is a list of the 7 best automatic ironing machines that are easy to use, based on how well it removes wrinkles from fabrics and how fast to reach their maximum temperature, reducing stress, and consuming less time involved in ironing. These tests along with customer feedback bring the top 7 best automatic ironing devices.
Why should you own an automated ironing machine?
Ironing yourself is annoying and hard to do most times
Paying for the laundry always to do it can be expensive if you don't want to do it yourself.
In fact, ironing get harder with bigger family members
It's important to iron and look neatly
Another statement of fact is that the ironing gets worse the bigger your family gets.
1. Effie
Effie is an automatic ironing machine that easily irons any material, bedsheets, towels, trousers, shirts, and more in less than 4 minutes to be done with each item, you can load up to 12 pieces of clothes once to return anytime and pack them. Ironing with Effie reduces stress and time to do other things.
Effie dimensions are 80cm x 25cm x 128cm and can handle all kinds of materials including cotton, silk, and polyester without damaging or burning the clothes because the temperature is lower.
Unique Futures of Effie:
Fully automated ironing machine.
Ready to use a few minutes
Handles multiple clothes at once without burning
Easily removes all wrinkles
Come with it adjustable hangers to fit the dress
No additional installation before use
One button controls everything.
2. PureSteam duo
pureSteam Duo is another powerful high-quality wrinkles remover, with its high temperature to penetrate any fabric smoothly and remove all wrinkles giving it a neat glance. It also provides a water cup for measuring, come with an adjustable temperature Dial user-friendly, and is suitable for all garment.
PureSteam Duo is cost $300 currently worth having in the household to reduce the stress of ironing, it regulates between steaming and ironing making the fabric ready for the event.
Futures of PureSteam duo:
High-quality and well-built to last long
effectively reduce the stress of ironing
Fully automated machine
PureSteam Duo is well-designed to suit any fabric
Decrease time and save money with less work.
3. Russell Hobbs Hanging Ironing Garment Steamer Machine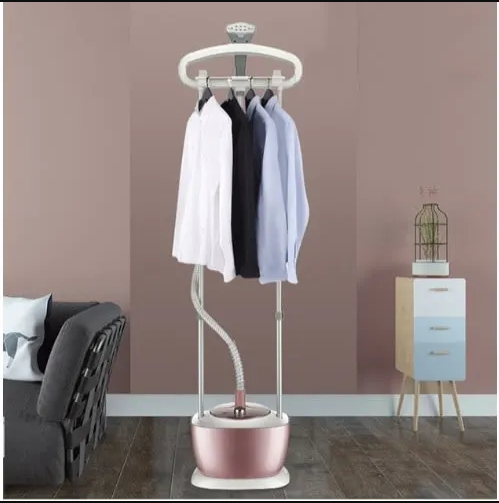 Russell Hanging Ironing Garment Steamer is required to be in every home for wrinkles remover, an easy-to-use steamer, and ironing equipment that comes with a rotating hanger with clips and an adjustable pole to fit the height of any fabric.
This quality automatic machine capacity quickly de-wrinkles the fabric and fits anywhere even luggage for when traveling, It is lightweight and can easily be moved around to keep the clothes always neat, it also has a water tank capacity of 220ml and Dual heat that fits any fabric making ironing very quick to do.
Futures of Russell Hobbs Hanging Ironing Garment Steamer:
Lightweight and can be easily moved around
Overheating control
Quick response
Adjustable rod to fit any fabric
Tank for water 22l
voltage rate, 2000w
(145xw34.6xh32.8) measurement.
4. Swaach SFF1000CSA Express Clothing Care System
Express Clothing Care System is another automatic ironing machine used to de-wrinkle and maintains the clothes saving time and money and making ironing easily well-done.
The machine is designed to fit anywhere in the house and is ready to use in 10 minutes when well-installed, and plugged in. The automated ironing machine preserves fabric to last long.
Swaach Express Clothing Care System creatively removes wrinkles and revives the clothe's awesome look.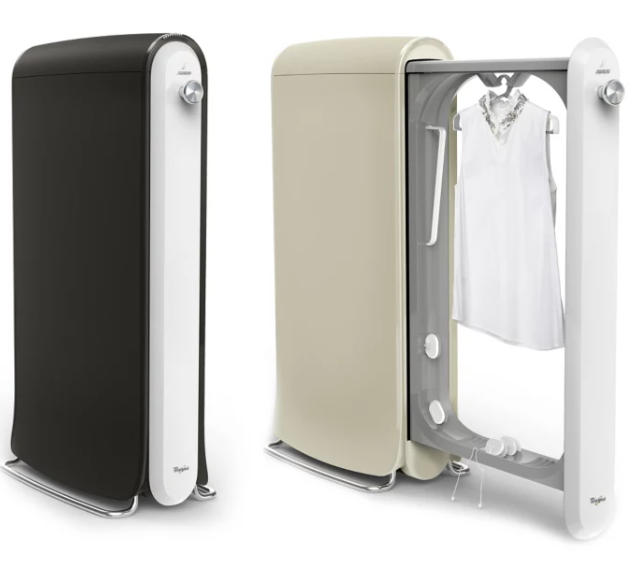 Futures of Swaach:
Designed to fit anywhere in the house
User-friendly
Easily de-wrinkles
reduces the time of ironing
5. HOMCOM Full-Size Fabric Ironing and Steamer
Homcom Fabric Ironing and Steamer fully de-wrinkles and remove odors from fabric, the technology provides a built-in clothes hanger and clips to hold the clothes while steaming.
This automatic equipment makes life easy, it is a 1350-watt garment steamer with a built-in adjustable ironing board to any angle, also adjustable poles to fit the fabric. or slide done when not in use.
Futures of HomCom
Adjustable pole and ironing board
Come with a built-in water tank
Lightweight and portable
User-friendly.
6. Singer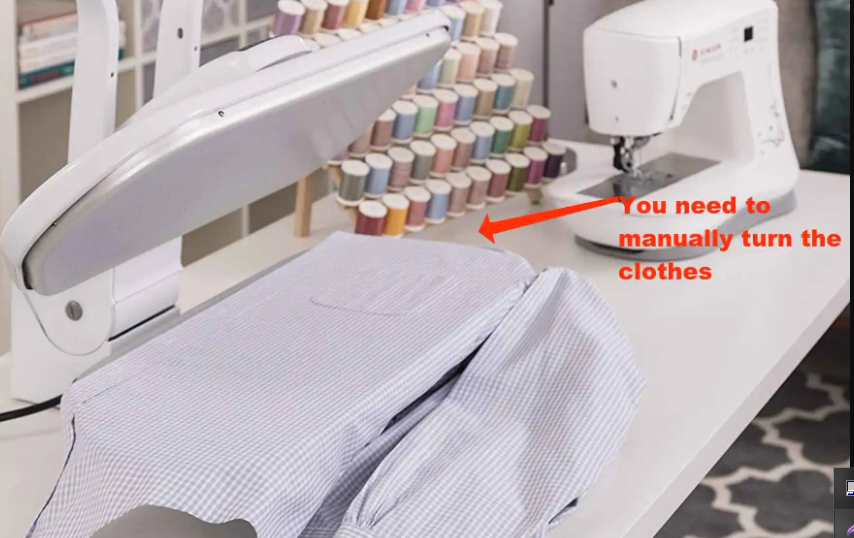 Singer requires being present to manually turn around the fabric, it saves time but can't be compared to other automatic ironing machines. It handles large amounts of clothes at once reducing the stress of ironing. It is built with an adjustable heat setting and an electronic alarm that sounds for up to 10 seconds and reminds you to lift it when it's down.
Singer"s
Futures of Singer:
Built-in alarm to keep you reminded
User-friendly setting
Handles heavy fabric
Quick to hate up
7. Stwamery automatic ironing machine
Stwamery is an automatic steaming and ironing machine with a high-quality capacity to easily de-wrinkle fabric. It is built to fit anywhere in the home and can be freely moveable with a big tank of water to get the best professional experience.
Futures of Stwamery:
Lightweight and can easily be move
Large water tank
User-friendly set-up
(26x43x165) dimensions
1850watt
conclusion
No more wrinkled clothes again, automatic clothes ironing handles the stress and time wastage in ironing. Let us get your feedback from the list above if this was of help to you, add up to 12 clothes with Effie and return anytime to pick them up, it's much easier to always stay neat with this automatic ironing machine.